Inspection Rate Card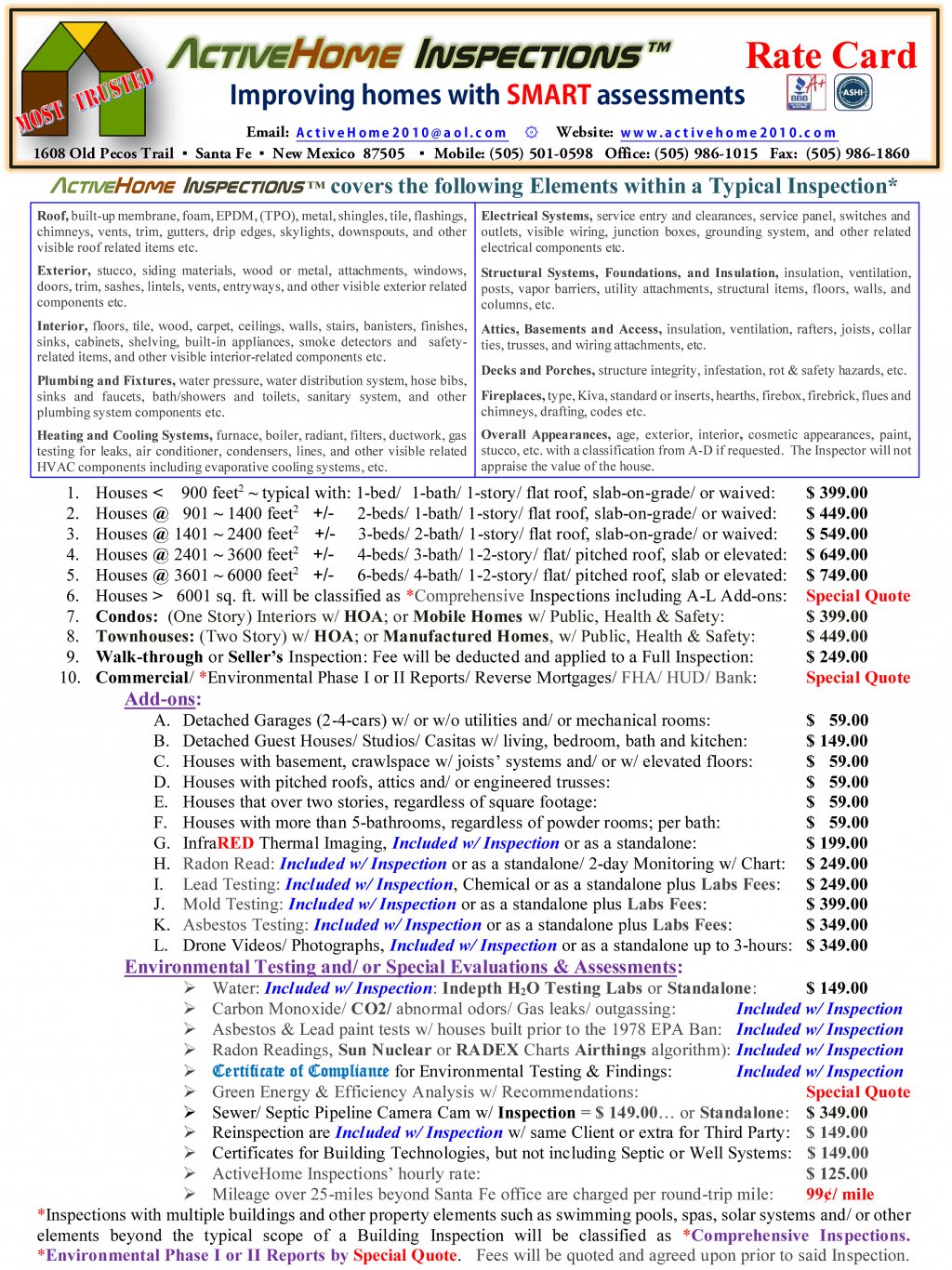 ActiveHome Inspections...
​
Covers the following Elements within a Typical Inspection*
Roof:
built-up, membrane, foam, EPDM, metal, shingles, tile, flashings, chimneys, vents, trim, gutters, drip edges, skylights, downspouts, and other visible roof related items etc.
Exterior:
stucco, siding materials, wood or metal, attachments, windows, doors, trim, sashes, lintels, vents, entryways, and other visible exterior related components etc.
Interior:
floors, tile, wood, carpet, ceilings, walls, stairs, banisters, finishes, sinks, cabinets, shelving, built-in appliances, smoke detectors and safety-related items, and other visible interior-related components etc.
Plumbing and Fixtures:
water pressure, water distribution system, hose bibs, sinks and faucets, bath/showers and toilets, sanitary system, and other plumbing system components etc.
Heating and Cooling Systems:
furnace, boiler, radiant, filters, ductwork, gas testing for leaks, air conditioner, condensers, lines, and other visible related HVAC components including evaporative cooling.
Electrical Systems:
service entry and clearances, service panel, switches and outlets, visible wiring, junction boxes, grounding system, and other related electrical components etc.
Structural Systems, Foundations, and Insulation:
insulation, ventilation, posts, vapor barriers, utility attachments, structural items, floors, walls, and columns, etc.
Attics, Basements and Access:
insulation, ventilation, rafters, joists, collar ties, trusses, and wiring attachments, included over 2401 sq. ft.
Decks and Porches:
structure integrity, infestation, rot and safety hazards, etc.
Fireplaces:
type, Kiva, standard or inserts, hearths, firebox, firebrick, flues and chimneys, drafting, codes etc.
Overall Appearances:
age, exterior, interior, cosmetic appearances, paint, stucco, etc. with a classification from A-D if requested. The Inspector will not appraise the value of the house.
*
House inspections with multiple buildings and other property elements such as swimming pools, spas, solar systems and/ or other elements beyond the typical scope of a home inspection will be classified as a
Comprehensive Property Inspection:*
Fees will be quoted and agreed upon prior to the inspection.
Reverse Mortgage inspections are based on documentation and format by FHA/HUD with the acceptance of the Bank's detailed requirements. Fees will be quoted and agreed upon prior to the inspection.
Mileage outside the 15-mile radius beyond the center of Santa Fe is charged at
99¢
per round-trip mile.